Software Testing India
eTCS is a global technology service provider offering customer specific software and suitable testing needs. We offer full range of software testing for all products including web and mobile application, desktop application, or a website.
Our software testing lifecycle involves following steps:
Test planning
Designing an effective QA strategy
Choosing the right software tools
Setting up a testing environment
Execution of testing
Transfer the QA deliverables
Bug Reporting
Documentation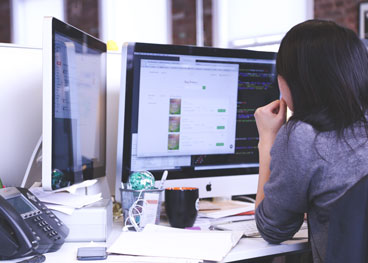 Types of software tests we conduct:
Functional Testing
Load and Stress Testing
Usability Testing
Security Testing
UI Testing
Data Migration Testing
Configuration Testing
Automation Testing
Acceptance Testing
Regression Testing
Cross-Platform Testing
Beta Testing
Compatibility Testing
System Testing
Integration Testing
Software testing method we follow:
White Box testing service:
White box testing involves looking at the structure of the code. We test from the developer's perspective ensuring that the internal operations performed according to the specification.
Black Box testing service:
Black box testing technique is helpful for finding certain vulnerabilities in the software developed. We use the same technique that hackers and malicious individuals might use to breach application security. Under black box, we use powerful and popular approach to make sure that user receives the value promised by the software.
Types of software applications we test:
Desktop applications installed on operating system such as Windows, Linux or iOS.
Web applications or custom web applications which are accessed via the Internet using web browsers.
Mobile application, either native or web application accessed by a web browser running on a mobile device.
Websites, whether eCommerce or static-dynamic website specifically developed for personal or business use are thoroughly tested.